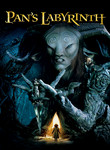 Pan's Labyrinth.

The first time I saw

Pan's Labyrinth

was in the theater, the summer I moved to California. The story struck closer to home than I expected - I was fresh off my senior thesis film, And Also The Kings Fall, a story conceptualized and written by a close friend during her semester in Spain. The premise, a young girl explores the epic stories of her dying grandfather's past. A journey that will be sure to leave viewers feeling remorse towards opportunity wasted. Lessons will be learned though; life is precious and shouldn't be wasted, for even the greatest will eventually fall.



Pan's Labyrinth

, to me, was a more elaborate senior thesis production with similar values. It expressed tales of life, death, good vs. evil, and all that falls in between. The film is the embodiment of a child's imagination, a fairytale in world stricken with grief. It paints the message that it's OK to dream, in fact, it's encouraged.

Beyond finally writing the review for

Pan's Labyrinth

, tonight represents another first. Tonight, five years after it's completion, I watched

And Also The Kings Fall

for the first time. Yes, I watched rough cuts during my time at Syracuse. I even attended the final screening for the senior class. However, our film was incomplete. Color was off, sound wasn't in sync, and picture wasn't locked. I was a complete and utter wreck. Friends have heard the stories, some even witnessed my unraveling first hand, but no one can truly understand the pain in which this film caused me. It might sound crazy, but the experience of being in production for this film took me to a mysterious place where heaven and hell collide head on. A mysterious place that I've only heard about from other filmmakers. A mysterious place that drove me to a nervous breakdown, yet a place where my heart secretly aches to return.

My experience with angst, turmoil, and tears during the production of

And Also The Kings Fall

is what I believe true filmmaking is all about. Call me a glutton for punishment, but I wish to return.

* I encourage each of you to watch the full film. YouTube lists the movie in 7 parts with a run time of approximately 65 minutes. It's long, but worth the journey.

Lastly, I'd like to thank Taryn Gould for the opportunity to experience. Taryn, I'm sorry it's taken me five years to watch the completed film - As I'm sure you can understand, I wasn't emotionally strong enough to revisit. Now that I have though, I wish I could relive the days. Thank you.